Natural design elements are a huge hit among designers and homeowners alike. From indoor plants and floral inspirations to rustic barnwood shiplap and Zen fountains, the concept of bringing nature to your interiors is a game-changer for most homeowners. These elements can transport your body, soul, and mind to calmness and serenity. They can also make you feel soothed, calmed, and excited as you feel how nature embraces your interiors.
In recent years, incorporating wood accents has been the simplest way to bring nature into your home. It also includes wooden furniture pieces considered sophisticated, durable, and can be finished in different ways imaginable.
Those who want to put their DIY skills to the test try woodworking or wood-crafting projects. Woodworking is a gratifying hobby that allows you to customize your interiors and build your own furniture using your own handiwork. But like any home project that requires electric tools, it involves plenty of precision and concentration. In fact, even the most skilled woodworkers are prone to mistakes now and then. These errors can range from minor issues such as making incorrect measurements to major ones such as acquiring injury or applying too much force, leading to a scrapped project.
Learning the most common woodworking failures is the trick to becoming a successful DIYer or a seasoned woodworker. It can be quite risky, but woodworking can be a very empowering hobby or even a career if done safely and properly. With that in mind, here are the common woodworking mistakes.
Inconsistent angles
Lack of squareness is a basic woodworking mistake that causes edges or gaps not lining up. To maintain accuracy, use materials with clean, straight angles and check the angles carefully. Experts recommend using the speed square, a triangle-shaped carpenter's tool that allows you to quickly identify and mark angles within 0 to 90 degrees. For extra measure, cut a few test pieces to ensure the correct angle before making the actual materials for the project.
Wearing incorrect attire
Whether you're working on a DIY project, repair, or construction, it's important to wear proper attire and protective gear. Safety is always a top priority in any workshop project, especially in woodworking.
Most of the woodworking materials and tools you'll be dealing with have extremely sharp edges and run at high speeds, which can injure your body parts within a blink of an eye if you don't pay attention.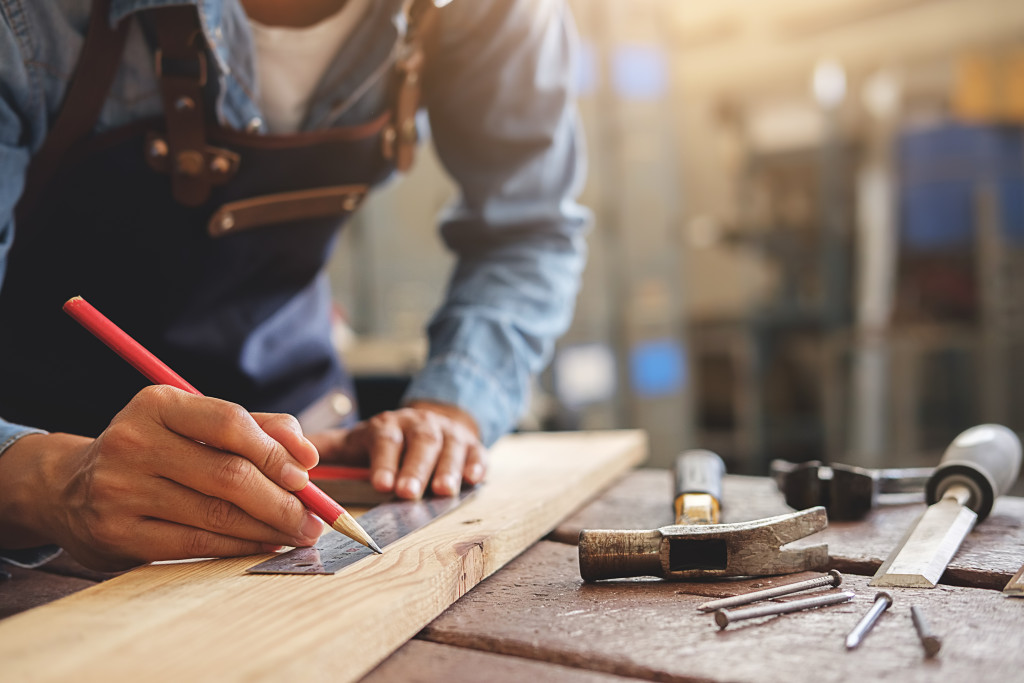 Besides sharp equipment and materials, there are plenty of other hazards you can potentially encounter during the working process, especially if you're just a beginner or have little to no knowledge about the safety risks of woodworking.
For example, without eye protection, sawdust can easily reach your eyes, causing toxic effects, respiratory issues, and irritation of the eyes, nose, and throat. Even the loud sounds of power tools, such as chainsaws, can harm your ears by causing tinnitus and hearing loss. For these reasons, save yourself from all the trouble by wearing safety gear during your woodworking project.
Applying too little or too much glue
Glue plays a critical role in woodworking projects. If you're not applying enough glue, you cannot combine separate components, causing the finished product to get easily damaged because of poor durability.
On the other hand, applying a lot of glue affects the overall appearance of the product. If you're particular about quality, it can be annoying to spot stains of dry glue at the corner or the surface of your product. To avoid these mistakes, take time applying glue on your project to save resources and ensure a flawless finished product!
Forgetting to clean the surface before applying the finishing layer
Another common mistake in woodworking is finishing a project in a dirty location or forgetting to prep or clean the surface before applying the finishing layer. The finish benefits wood in two different ways: decoration and protection. It enhances the wood's depth, beauty, and color while protecting it against moisture, wear, dirt, and scratches.
Some people are in too much of a rush to show off their finished product that they end up doing it wrong. Others are finishing their woodwork in a dirty environment, causing dirt and dust to ruin the coat. When applying finishes, take your time and do it with cleanliness in mind.
Wood is a tough material. The last thing you want to happen is to sustain injuries while doing what is supposed to be a fulfilling hobby. As you progress in woodworking, learn to work and handle materials and tools with extreme care. Remember, the quality of your work can make or break the stage and finish of your project.