Small spaces are often associated with low budgets, but even if that's true, the area doesn't have to look cheap. After all, even expensive condo units in high-rise buildings can be small. But because those spaces show the correct details, they instantly scream wealth, despite the meager square footage.
If you've got a taste for designer looks and pieces, this article has got you covered. And the best part is, you don't have to spend a ton to achieve what you want. Through showing off these details, your small space can look straight out of an interior design magazine:
1. Colorful Accessories
The typical hack for small spaces is painting everything white. But an all-white palette can look bland and generic. To give the room more character, add color through accessories. Mix the complementary shades, like dark-blue and gray, pastels, or earthy tones. Using bold colors like red, yellow, and orange should be done in moderation. Too many of those can make the space look cheap.
Use window treatments, decorative vases, rugs, textiles, and artwork to showcase your desired color palette. You can also go monochromatic if that's your taste; for example, using white and blue in a bedroom. Since blue is a relaxing shade, combining it with white won't disrupt its tranquility. Just play with different shades of blue to add more dimension to the space.
2. Natural Light
Luxurious spaces are often shown as moody, warmly lit rooms. But in the daytime, they're bathed in rich natural light. So even if your small area doesn't have floor-to-ceiling windows, draw your blinds or curtains open. Natural light adds airiness and creates the illusion of a larger space. For privacy purposes, use sheer curtains in addition to your main drapes.
A hack to increase natural light — without adding more windows — is creating a mirror wall. If budget permits, cover an entire wall with mirrors. If not, install a big mirror right across a window or anywhere the sunlight hits. The mirror will bounce back the reflected light and make it appear as if you have more square footage.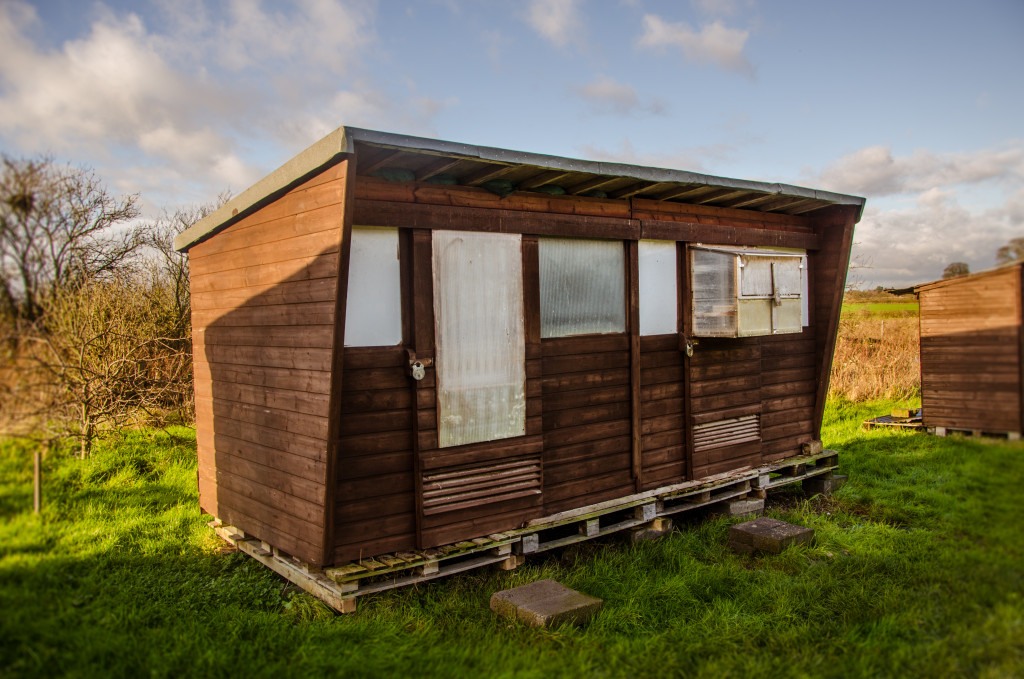 3. A Large Bed in a Small Room
Using bunk beds isn't the only way to maximize a small bedroom's space. A king-sized mattress will do the trick, too. If storage would be a problem, you can use the space under the bed as drawers. A king-sized bed frame and storage in one can hide the clutter that would otherwise make your space cheaper.
Make your small bedroom even more luxurious by showing off a statement light fixture. You can hang a chandelier above the bed or put eye-catching lampshades on either side of the bed. Using both light fixtures would be ideal. Designers often play with lighting to enhance a bedroom's atmosphere.
4. Clutter-free Kitchen Counters
Marble or granite countertops won't look luxurious unless you remove the clutter on them. Condiment and food packaging disrupt the material's aesthetic, making your kitchen look untidy even if it's organized. So use smart storage solutions to hide your kitchen clutter. The only things that should be exposed are some fruits, decorative cutting boards, and a plant or two.
Clean kitchen counters, regardless of the countertop material, can impact your whole home's beauty. It creates the impression that you're put together, a trait that wealthy, successful people possess.
5. Metallic Items
Gilded mirrors, candelabras, and vases are standard in opulent spaces. While you don't need the same items, showing off something metallic will level up your space. Consider using side tables with stainless steel legs or mirrored surfaces. Stainless steel sculptures on your coffee table or entryway table will work great, too. Be careful not to go overboard, or your home might look more like a tacky hotel lobby than a person's abode.
6. Fresh, Upholstered Furniture
If your couch has gone threadbare, sagged, or discolored, it's no doubt time to have them refurbished. You can also buy new ones if the budget permits. Whichever you choose, your upholstery should have appealing fabrics. The color should match your home's color palette, and the texture should be mixed. Using a leather sofa and leather accent chairs, for example, can make your living room look like a showroom. Use canvas or velvet accent chairs instead, or vice-versa. It would result in a more balanced, three-dimensional space.
Do the same for your bedding and pillows. Instead of using all the pieces in a bedding set, mix and match colors, textures, and patterns. For example, use a white linen bed sheet, then silk pillowcases and a wool blanket. That would make your bed a luxurious focal point in your room.
Sometimes, bringing out the best in a space only takes emphasizing some existing details. So don't immediately think you have to replace something or splurge on a designer item. As the famous saying goes, less is more.