When you are nursing an injury, traveling may seem daunting or impossible. However, with a little bit of preparation and planning, you can make the process much easier for yourself. Here are a few tips to help you travel while nursing an injury.
1. Ask your doctor for help
Before you travel, it's good to consult your doctor about the best ways to manage your injury while on the road. They may be able to recommend a temporary replacement medication or advice that will help minimize discomfort and keep you comfortable.
If your injury is too severe for travel, your doctor may be able to refer you to a specialist who can help you make arrangements for care while you're away from home. Or they may advise you not to travel until you're fully recovered.
2. Pack carefully
When packing for a trip, it's essential to pay attention to your injury and how it impacts your mobility. Consider bringing along items that will make moving around easier, such as crutches or medical knee braces, and pack any medications or equipment you need to help manage your injury.
You may also want to consider bringing along an ice pack or heating pad if your injury acts up while away from home. This will help you stay comfortable and manage your symptoms while you travel. If your injury is severe, you may even need to make special arrangements for wheelchair-accessible transportation or other assistance.
3. Speak to your airline or travel provider
If you have an injury or medical condition that requires special assistance, contact your airline or travel provider in advance of your trip. Many companies are happy to accommodate special needs and can help you get settled on your flight or in your hotel room without struggling.
You may need to provide documentation from a doctor verifying the need for these accommodations.
4. Bring a friend
Traveling with a companion can help make things easier when you're nursing an injury. They can support you while walking or getting around, help with packing and unpacking, and ensure you have everything you need while on the road. Make sure to let your travel companions know about your injury and how they can best help you.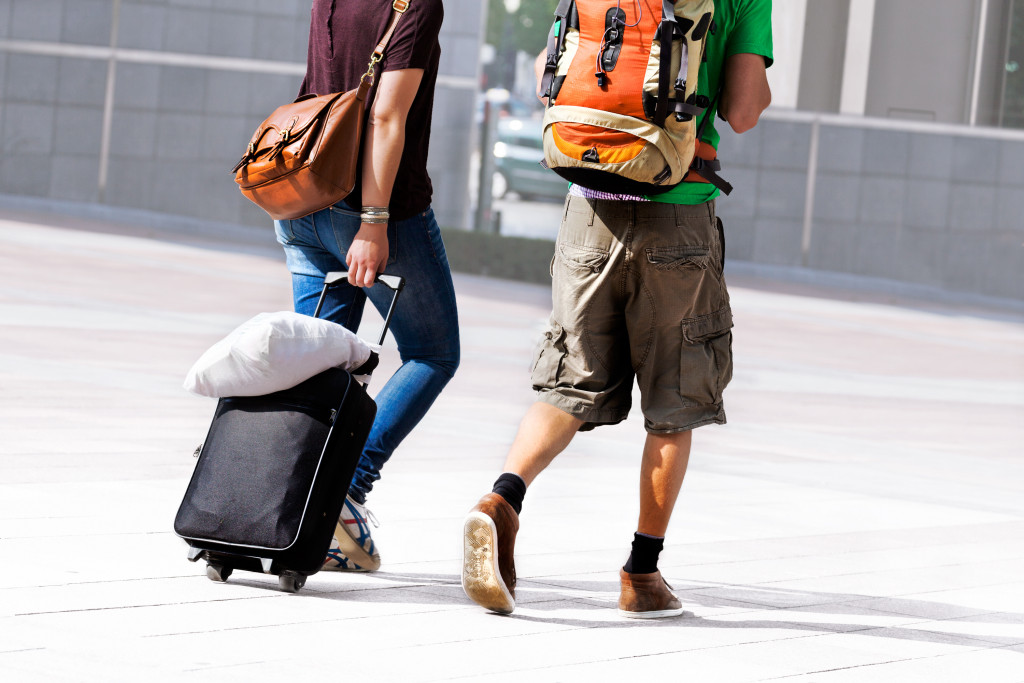 5. Plan your itinerary carefully
When planning your trip, take your injury into account and build in plenty of time for rest and recovery. Choose activities that won't aggravate your injury, such as sightseeing that doesn't require a lot of walking, and always be sure to stay hydrated.
6. Set aside time for rest
While traveling, it's important to make sure that you leave plenty of time in your schedule to rest and relax. This will help you avoid exacerbating your injury and give you the energy you need to enjoy your trip.
If your injury keeps you from getting a good night's sleep, consider taking a nap during the day or investing in a comfortable travel pillow. If you are sitting for long periods, take breaks often to move around and stretch.
7. Look into travel insurance
Travel insurance is a good idea for any trip, but it can be especially important when you're nursing an injury. This will help ensure that you have medical coverage in place if something happens while you're away from home and that you'll be able to receive the care or accommodations you need.
8. Keep an eye on your injury
While traveling, it's essential to take good care of your injury and be aware of any changes that could occur. If you start to experience any new or worsening symptoms, seek medical attention right away. Be sure to also keep an eye on your injury for any signs of infection, such as redness, swelling, or warmth.
9. Have a backup plan
No matter how well you plan, there's always a chance something could go wrong when traveling. If your injury becomes more severe or additional complications arise, it's essential to have a backup plan in place.
This could include having a friend or family member you can call for help, booking alternate travel arrangements if needed, or even making plans to cut your trip short. Always be sure to let your travel companions and any other contacts know about your injury so that they can help if needed.
Traveling with an injury can be challenging, but it is possible to have a successful and enjoyable trip with the right planning and care. Before you start planning your trip, always ask your doctor if travel is safe for you, and be sure to get their approval. Once you have the green light, follow the tips above to help make your trip as smooth and stress-free as possible. Safe travels!