Nothing is better than taking your pet along on vacation. In fact, 37% of dog owners include their pets in their travel plans. However, having your pet by your side can make your travel plans a little more complicated. As with any other aspect of being a pet owner, knowing the proper way to travel with your pet requires a bit of research and planning. But don't worry! We're here with a few tips to help make departure day a little easier.
Visit the Vet's Office
If you're traveling internationally, consider visiting your veterinarian and letting them know about your travel plans as soon as possible. This will allow your doctor to help make sure that your pet is healthy enough to travel and meets the requirements for the country you're traveling to.
Requirements can differ depending on where you're traveling to, so do a little research so you're aware of what you might need. These requirements usually include blood tests or vaccinations. If you want to be prepared, consider microchipping your pet, as microchipped pets are more likely to reconcile with their owners compared to pets that aren't. It's a painless procedure that will help people contact you if you lose your pet.
Book Accommodations in Advance
If you're staying at a hotel or guesthouse, it's important to check if they're pet-friendly. Not all accommodations allow pets inside, and those that do can charge you a hefty fee. Even if your hotel or guesthouse is pet-friendly, that doesn't mean that you can let your furry or feathered-companion roam around the place. Make sure to take note of the rules of your accommodation to make your stay hassle-free.
Be Prepared
Before you make your travel plans, it's important to consider how to bring your pet along with you. This will help you do the proper research and prepare for whatever documents you might need during your trip.
By Plane
Different airlines have different policies regarding how pets can travel. In some cases, your pet may be allowed to travel with you, but this only applies to smaller pets in appropriate carriers. Other airlines might only allow pets to be transported as cargo, which is generally a better option for pets like cats and dogs since it's quieter and darker. The best way to know what guidelines you should follow is by contacting your preferred airline directly. They'll explain everything you need to know about flying with your pet on their airline.
You can also have your pet travel as an air cargo shipment on a separate flight. Ensure that your carrier is big enough for your pet to stand up and turn around freely, and don't forget to prepare the proper amount of food and water for them. If you're not sure how to go about feeding your pet while they're on a separate plane, ask your veterinarian for advice.
By Car
If you're bringing your pet along on a road trip, plan out frequent stops to your destination. This gives your pet time to exercise and take their potty breaks. If you plan to bring your pet out of the car while you're at a rest stop, make sure that they have their collar, ID tag, and leash. Remember to never, ever leave your pet alone in the car unless you have a friend with you to watch over them.
By Train
Amtrak now allows pets (that aren't service animals) onboard select trains as long as your travel duration is 7 hours or less. They're also only allowed in coach, as long as you have a well-ventilated and leak-proof carrier. Remember that it's your responsibility to let your pets relieve themselves and get exercise in between stations.
If you don't have the time to prepare your pet's requirements to travel with you, consider using a dog transport service that's cost-efficient and gets your companion to your destination hassle-free.
Get Your Documents Ready
Having the right documents is especially important when you're traveling internationally. Besides your own travel documents, you need to make copies of your pet's medical information and vet records. Officials will ask to see them, as they help prove whether your pet is healthy and vaccinated.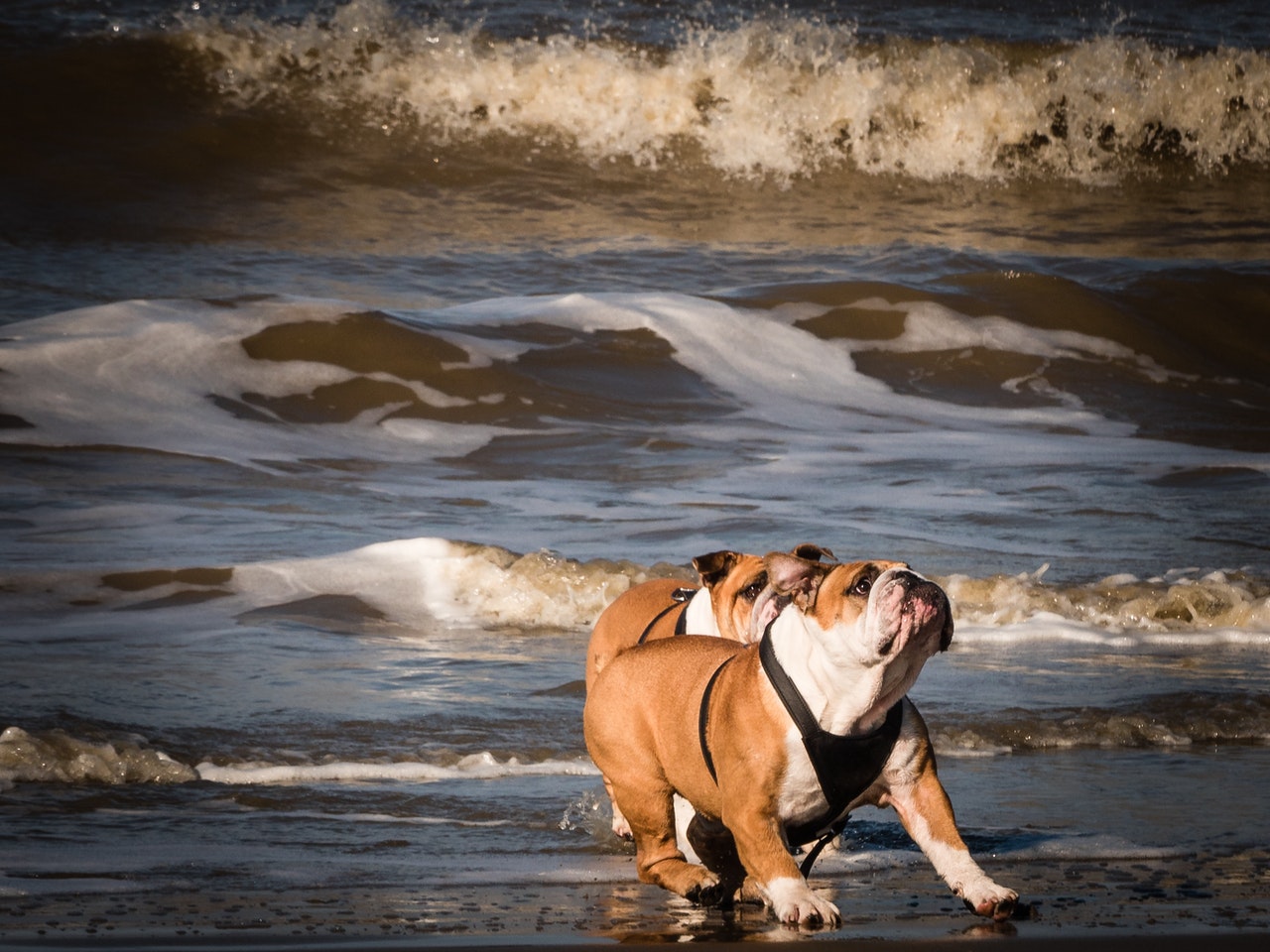 Make Sure Your Pet's Comfortable
Traveling can be stressful for your pets, so it's important to make sure they're relaxed and comfortable while in transit.
Get Them Used to the Carrier
Before your trip, you need to get your dog used to staying and sleeping in a carrier for a long period. This goes for air or land travel. While you won't practice on a plane or train, you can get them used to the sensation by bringing them outdoors and letting them fall asleep in their carrier. You can also do this at home by having them stay inside the carrier for hours at a time.
If you plan on traveling by car, you can bring them along with you on errands. Just make sure that your carrier is safely anchored onto the back seat with a seat belt to prevent unnecessary accidents.
Pack Everything They Need
You need to make sure that your pet's carrier is stocked with everything they might need during the flight, train ride, or road trip. Depending on your pet's needs, you may need to make a checklist to make sure you don't forget anything.
Here are a few other tips to help your pet feel comfortable while you're on the way to your destination.
Extreme heat or cold isn't good for your pets. If you're arriving at a hot destination, choose a nighttime arrival when the weather's cooler.
Talk to your veterinarian regarding any steps you can take to make your pet more comfortable. This is because the IAATA (International Air Transport Association) advises against using sedatives or tranquilizers, as these can harm your pets during the flight.
Get your pet the proper exercise needed before leaving home and before checking in.
Bringing your pets on vacation with you comes with a lot of extra steps, but with the right preparation and planning, you'll enjoy your vacation with your companion healthy and safe.